iBOLT 12" Adjustable FlexPro C-Clamp Mount Only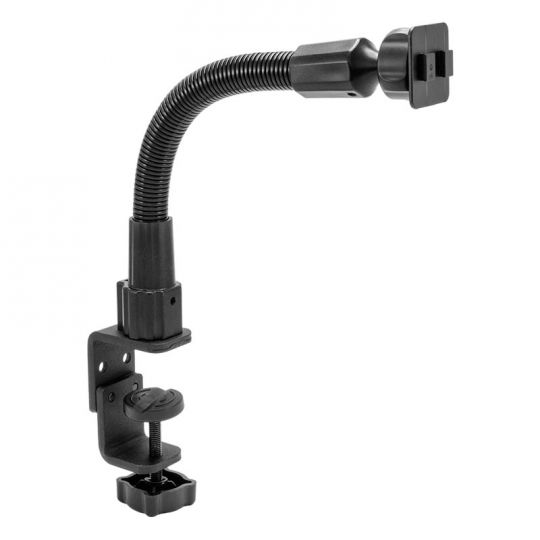 iBOLT 12" Adjustable FlexPro C-Clamp Mount Only
SKU: 22138 - Heavy-duty desk, cart, or table mounting pedestal replaces or upgrades an existing pedestal and is compatible with iBOLT Dual-T or 4 Prong universal smartphone and tablet holders.
30-day money-back guarantee

Free Shipping in UK Mainland

BUY NOW, get in 1-2 days* to UK Mainland

Competitive

Shipping Rates to EU

Worldwide Shipping*
Also Available on Amazon UK & EU
Overview


The heavy-duty mounting pedestal is made of strong yet flexible aluminium, and is ideal for an office or workspace where easy access to a smartphone or tablet is needed, but where surface space is at a premium. Install the C-clamp base on a desk, cart, worktable, bench, lectern, or other table-like surfaces. The C-clamp maintains a firm grip and opens as wide as 3.5 inches. Bend the 12" gooseneck and rotate the swivel ball adapter head for 360-degree rotation for exact positioning of the device. 
Product Description


Compatible with select Arkon Dual-T smartphone and tablet holders

Recommended for tables, desks, carts, or workbenches

Mount clamp opens as wide as 3.5" and closes as tight as .5"

Features 12-inch flexible gooseneck

2 year limited warranty
Package Content
12 inch Clamp Mount (with 22mm Ball)

Warranty



NOTE: This product is NOT included with 22mm Tightening Ring or 2T Adapter