iBOLT 8" Adjustable 4- Hole Drill Base Mount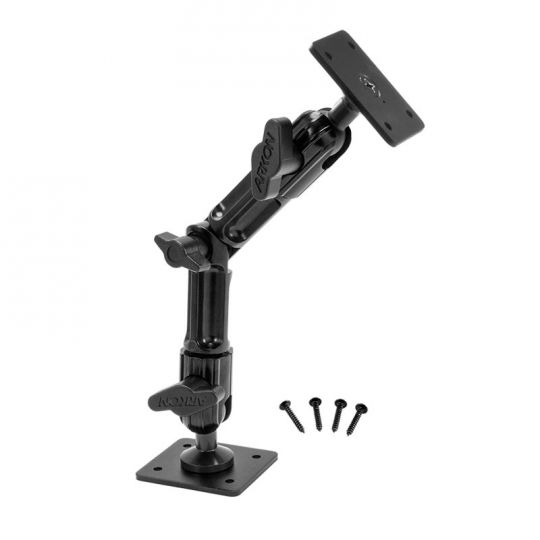 iBOLT 8" Adjustable 4- Hole Drill Base Mount
SKU: 22142 - iBOLT Heavy-Duty Multi-Angle AMPS Mounting Pedestal with 9" Arm and 4-Hole Drill Base.
30-day money-back guarantee

Free Shipping in UK Mainland

BUY NOW, get in 1-2 days* to UK Mainland

Competitive

Shipping Rates to EU

Worldwide Shipping*
Also Available on Amazon UK & EU
Overview
This mounting pedestal can be used as a replacement, upgrade, or as an addition to an existing pedestal with a 4-Hole AMPS pattern. This mounting pedestal is also ideal for mobile radio holders, housings, and other devices used by public safety, construction, and utility applications. 
This mount includes only Arkon's Heavy-Duty Aluminium 4-Hole Drill Base Mounting Pedestal with 9" Multi-Angle Arm and 4-Hole AMPS Head (holders sold separately). This sturdy 8"mount features three adjustment knobs at 2.5" intervals on the mount arm for easy positioning. Two additional 180° adjustment points at the top and bottom of the mount provide additional flexibility in positioning the device.
Formerly an industry standard, the 4-Hole AMPS pattern consists of four holes located in a rectangular pattern spaced at 30.17mm by 38.05mm (measured as the center-to-center distance between holes). The 4-hole drill base mount is made of strong aluminum, and is ideal for environments where a more permanent solution is desirable, such as in a workshop or in retail.


Product Description


Compatible with GPS, cameras, satellite radios, and other devices with a 4-Hole AMPS pattern

4-hole drill base recommended for permanent installs

Multi-angle arm has three adjustment knobs with two additional adjustment points

2 year limited warranty
Package Content
Flex Pedestal with AMPS

Screws and Nuts

Warranty